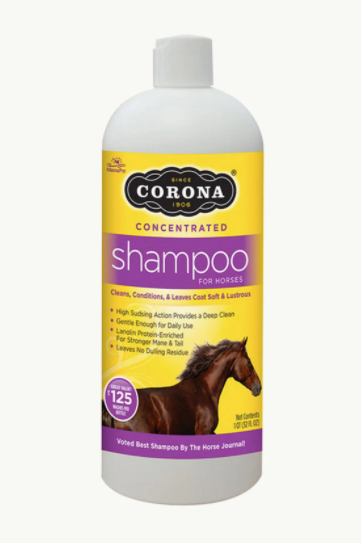 CORONA SHAMPOO CONCENTRATED SHAMPOO
Description
Manna Pro Corona Concentrated Shampoo has been trusted by horse owners for generations to clean, condition, and keep coats soft and shiny. Simply dilute this gentle, pH balanced formula with water and work up a rich lather over your horse's entire coat for a deep clean and long-lasting strength and shine without a dulling residue.
Key Benefits
Concentrated shampoo: Dilute for best results. Cleans, conditions, and leaves your horse's coat soft and lustrous.
High sudsing action: Works up a lather for an all-over deep clean.
Strength and shine: Enriched with lanolin protein to protect the health and vitality of your horse's skin and hair.
Gentle formula: pH balanced and gentle enough for daily use. Non-irritating to eyes when properly diluted.
No residue: Leaves no dulling or slippery residue.
Directions For Use
Add to two gallons of water as follows: ¼ oz for regular and frequent light washing, ½ oz for normal dust, dirt and sweat, 1 oz for difficult urine, manure or mud stains.
Wet animal thoroughly, apply with saturated sponge, working up a lather over the entire body, rinse thoroughly with clean water, remove excess water with a squeegee or scraper, or by toweling. NOTE: Non-irritating to eyes in dilutions recommended above.