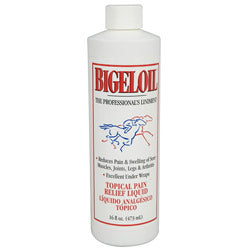 BIGELOIL PROFESSIONAL LINIMENT -32OZ
sore muscles. This fast-acting gel is very convenient and it allows for controlled application in treating localized pain.
Effective rub that heals, refreshes, and invigorates sore muscles
Reduces soreness from fatigue or strain
Stimulates superficial circulation
Antiseptic and antibacterial properties
Active Ingredients:
Menthol 2% W/W
Also Contains:
Alcohol
Directions:
Can be used before, during and after competition. Can also be used on dogs.
Indications:
For temporary relief of minor pain, swelling from sprains, strains, bruises, arthritis, overworked muscle and minor wounds.
Directions For Use:
Rub onto the area 3 to 4 times a day. For faster relief, rub with hair and wrap or blanket. For minor cuts and scrapes apply without rubbing.