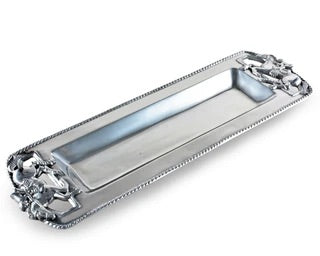 ARTHUR COURT THOROUGHBRED OBLONG TRAY
Jockeys lead their horses toward the finish line on opposite sides of this piece, their hunched posture and firm grip on the reins reflecting the tension of race day. A ropy border forms around the handmade, aluminum tray, further signifying the heated competition.

Touch this powerful pair every time you pick up Arthur Court's Thoroughbred Oblong Tray.

Size: L: 18.0" / W: 6.0"
Care: Wash by hand with mild dish soap and dry immediately - do not put in dishwasher.